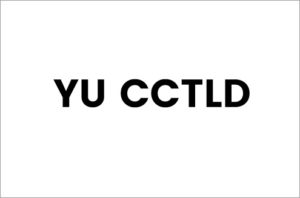 Date: 03/01/2010The previous code for Yugoslavia, YU, was removed on 2003, but the yu ccTLD remained in operation. Finally, after a two-year transition to Serbian rs and Montenegrin me, the .yu domain was phased out in March 2010.
The .YU domain delegation has been removed from the DNS root zone as the final step in the process to retire the domain from usage. ICANN staff provide this report to the community as information. All websites using the .YU country code Top-Level Domain (ccTLD) will cease to be available online. The ccTLD assigned to the former Republic of Yugoslavia has been replaced by .rs (for Serbia) and .me (for Montenegro). ICANN allowed extra time for sites to make the transition before removing the .YU domain. It has been reported that up to 4,000 websites are still using the .YU domain.
On 6 November 2007, based on the verbally agreed approach, a letter was transmitted to RNIDS formally documenting the reporting protocol.
Following the delegation of .RS, the registry took a staged approach to the decommissioning of the .YU domain. In the first phase, all names registered within .YU had their respective .RS domain reserved. This was conducted as part of a sunrise process that involved other rights-based allocations prior to general availability.
During the first six months of .RS operations, only existing .YU domain holders were able to obtain domains corresponding to the reservations. As the domains have a hierarchical model (.CO.RS, .ORG.RS, etc.) rights were also awarded for domains directly under .RS on a first-come first-served basis.
By September 2008, after the six month period, unredeemed .RS reservations expired, and general availability started for .RS domains. The .YU registry was then curated, with inactive and unused .YU domains being identified. 2,769 .YU domains deemed as still active, and all remaining .YU domains were removed in March 2009. Between March and May 2009, 1,236 domain holders appealed to have their domains re-instated.
ICANN received a short status update from RNIDS in early 2008, however nothing further was reported according to the reporting protocol regarding the transition, or any difficulties that had been encountered.
As of June 2009, there were 4,266 .YU domains still delegated, down from 32,772. At that time there were 26,294 domains registered in .RS. It is worth noting that of these remaining 4,266 domains, only approximately 200 did not also have the matching .RS domain.