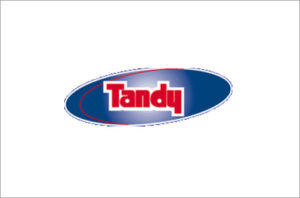 Date: 12/11/1986On December 11, 1986, Tandy corporation registered the tandy.com domain name, making it 49th .com domain ever to be registered.
Tandy Corporation, was an American family-owned leather goods company based in Fort Worth, Texas. Tandy Leather was founded in 1919 as a leather supply store, and acquired a number of craft retail companies, including RadioShack in 1963. In 2000, the Tandy Corporation name was dropped and entity became the RadioShack Corporation, selling The Tandy Leather name and operating assets to Tandy Leather Factory.
History
Tandy began in 1919 when two friends, Norton Hinckley and Dave L. Tandy, decided to start the Hinckley-Tandy Leather Company and concentrated their efforts on selling sole leather and other supplies to shoe repair dealers in Texas. Hinckley and Tandy opened their first branch store in 1927 in Beaumont, Texas and in 1932, Dave Tandy moved the store from Beaumont to Houston, Texas. Tandy's business survived the economic storms of the Depression, gathered strength and developed a firm presence in the shoe findings business. Dave Tandy had a son, Charles Tandy, who was drafted into the business during his early twenties. Charles obtained a B.A degree at Texas Christian University then began attending the Harvard Business School to further expand his education. As World War II escalated Charles was called to serve his country in the military and relocated to Hawaii. He wrote his father from overseas suggesting that leathercraft might offer new possibilities for growing the shoe finding business since the same supplies were used widely in Navy and Army hospitals and recreation centers. Leathercraft gave the men something useful to do and their handiwork, in addition to being therapeutic, had genuine value.
Charles Tandy returned home from the service as a Lieutenant Commander in 1948 and negotiated to operate the fledgling leathercraft division himself. He had encouraged and followed the development of that venture through correspondence with his father. Within a short time Charles succeeded in opening the first of two retail stores in 1950 that specialized exclusively in leathercraft. Mr. Hinckley did not share the enthusiasm of Dave and Charles Tandy for the new leathercraft division. As a result, the two original founders came to an agreement in 1950 that Hinckley would continue to pursue the shoe findings business and the Tandy partners would specialize in promoting leathercrafts. The first Tandy Catalog, only 8 pages long, was mailed to readers of Popular Science magazine who had responded to two-inch test ads that were placed by Tandy. From 1950 forward Tandy operated retail mail order stores supported by direct mail advertising.[1] This successful formula helped the company expand into a chain of some 150 leathercraft stores. A growing 'do-it-yourself movement' prompted by a shortage of consumer goods and high labor costs continued to gather momentum. The fifteen leathercraft stores opened during this division's first two years of operation became quite successful. Tandy began expanding by gaining new product lines; the first acquisition was with the American Handicrafts Company which featured a broad line of do-it-yourself handicraft products, two established retail stores in the New York market, and useful knowledge of school and institutional markets. Sixteen additional retail stores were opened in 1953, and by 1955 Tandy Leather was a thriving company with leased sales sites in 75 cities across the United States. Tandy Leather became an attractive commodity and was purchased in 1955 by the American Hide and Leather Company of Boston (name change in 1956 to General American Industries). Charles continued to maintain control of managing the Tandy Leather division while owned by GAI. During 1956, General American Industries acquired three other companies unrelated to the leather industry and a struggle for control of the parent company began. Charles saw the need to emancipate from the direction initiated by GAI. He used all his resources, raised additional money, and exercised his right to purchase the 500,000 shares of stock that were included in the original settlement. When the votes were counted on the day of that pivotal stockholders meeting, the Tandy group took management control of General American Industries.
Acquisition of Merribee & RadioShack
Tandy had a landmark year in 1961. The company name was changed to Tandy Corporation and the corporate headquarters were moved to Fort Worth, Texas where Charles Tandy became the President and Chairman of the Board. Tandy Leather was operating 125 stores in 105 cities of the United States and Canada and expansion was the name of the game. Tandy acquired the assets of Merribee Art Embroidery Co., manufacturer and retailer of needlecraft items, as well as 5 other companies, including Cleveland Crafts Inc. and brought on the owner, Werner Magnus, to help run the newly acquired Merribee division. The first of the 'Tandy Marts' was also opened in Fort Worth in December 1961. Charles Tandy believed that the do-it-yourself movement had gained sufficient momentum to support a new merchandising concept. The first Tandy Mart had twenty-eight different shops all devoted to craft and hobby merchandise and included American Handicraft, Tandy Leather, Electronics Crafts and Merribee in an area of about 40,000 square feet. Charles Tandy became intrigued with the potential for rapid growth that he saw in the electronics retail industry during 1962. He found RadioShack in Boston, a mail order company that had started in the twenties selling to ham operators and electronics buffs. By April 1963, the Tandy Corporation acquired management control of RadioShack Corporation and within two years, RadioShack's $4 million loss was turned into a profit under the leadership of Charles Tandy.
Sales were going well for Tandy during this time. The "beads & fringe" days were in full swing with the hippy era and the 'Nature-Tand' look was a big seller for belts, purses, sandals and wristbands. Under the leadership of Lloyd Redd (President) and Al Patten (VP of Operations), the company prospered. The number of Tandy store-fronts skyrocketed over the next five to six years by growing from 132 sites in 1969 to 269 sites in 1975. Ground broke in downtown Fort Worth for the construction of the Tandy Towers in 1975. The 18-story office building was initiated as Phase I of a massive downtown development with plans to cover eight city blocks, become the new headquarters of the Tandy Corp. It contained an upscale retail shopping center with an indoor ice skating rink and had its own privately owned subway system. The Tandy Corporation Board of Directors then announced a plan to separate Tandy's businesses into three distinct publicly held companies. The two new companies would be named Tandycrafts, Inc. and Tex Tan-Hickok, Inc. This plan was publicized as a strategy to provide intensive leadership and tailored management of the three distinct and diverse businesses of the company, each of which recently had reached a substantial size. With this transition, RadioShack and Tandy Leather Company were no longer under the same corporate umbrella.[3] Wray Thompson was promoted to President of Tandy Leather Company in 1976 and Dave Ferrill was promoted to the position of National Sales Manager; they oversaw 288 stores. Ron Morgan was promoted to the Eastern Divisional VP in 1977. Although they opened their 300th store that year, the popularity of Nature-Tand's products had begun to slide as reflected by their sales and profit records. Charles Tandy died on November 4, 1978, at the age of 60. Concurrently, key stakeholders began to question the direction of the company. Wray Thompson subsequently made the career decision to resign from his position as President and later started The Leather Factory with Ron Morgan, which eventually purchased Tandy Leather Corporation in 2000.
Tandy stores
In 1973 Tandy Corporation began an expansion program outside their home market of the USA, opening a chain of RadioShack-style stores in Europe and Australia under the Tandy name. The first store to open was in Aartselaar, Belgium on August 9, 1973. The first UK store opened October 11, 1973 in Hall Green, Birmingham. Initially these new stores were under direct ownership of Tandy Corporation. In 1986 Tandy Corporation formed its subsidiary InterTAN as separate entity though connections between them were still visible. For example, catalogue number compatibility was maintained so that the same catalogue number in both companies would refer to the same item.
Tandy stores in the UK sold mainly own-brand goods under the 'Realistic' label and the shops were distinguished on the high street by continuing to use written sales receipts and a cash drawer instead of a till as late as the early 1990s. Staff were required to take the name and address of any customer who made a purchase, however small, in order to put them on the company's brochure mailing list, which often caused disgruntlement. A popular feature of Tandy stores was the free battery club, in which customers were allowed to claim a certain number of free batteries per year. In the early 1990s the chain ran the 'Tandy Card' store credit card scheme and the 'Tandy Care' extended warranty policies which were heavily marketed by staff.
In 1999 the UK stores were acquired by Carphone Warehouse, as a part of an expansion strategy that saw the majority of the Tandy stores converted either to Carphone Warehouse or Tecno photographic stores. By 2001 all former Tandy stores had been converted or closed. A small number of the stores were sold to a new company called T2 Retail Ltd formed by former Tandy (Intertan UK) employees, Dave Johnson, Neil Duggins and Philip Butcher[citation needed] who continued the RadioShack-style theme for a while, but these stores also closed in 2005. A new company called T2 Enterprises now continues using the old T2 Retail web presence as an exclusively on-line retailer stocking a range of RadioShack products and other electronics.
In 2001 the Australian stores were sold to Woolworths Limited. In February 2009, Woolworths Limited announced that it would be closing all Tandy stores within the next 2 years. By the end of June 2012, all stores had closed. After Woolworths purchased Tandy Electronics, despite owning rival Dick Smith Electronics, both continued to trade as a separate entities.
In Canada, the InterTAN stores were sold to rival Circuit City Inc. At that time, the stores were branded as RadioShack, however, because Circuit City lost the naming rights, all RadioShacks were re-branded as "The Source by Circuit City" (now called just The Source). Some have closed. In 2009 Circuit City sold The Source to Bell Canada Enterprises (BCE).
In 2012, Tandy Corporation Ltd, a UK company, acquired the UK rights to the Tandy brand from RadioShack. It now operates as an on-line retailer of electronic components and kits.