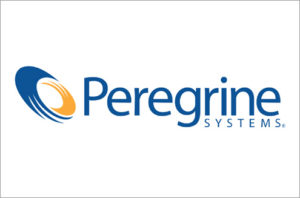 Date: 12/11/1986On December 11, 1986, Peregrine Systems registered the peregrine.com domain name, making it 49th .com domain ever to be registered.
Peregrine Systems, Inc. was an enterprise software company, founded in 1981, that sold enterprise asset management, change management, and ITIL-based IT service management software. Following an accounting scandal and bankruptcy in 2003, Peregrine was acquired by Hewlett-Packard in 2005. HP now markets the Peregrine products as part of its IT Service Management solutions, within the HP Software Division portfolio.
History
Peregrine Systems was founded in 1981 in Irvine, California. The founders and employees were Chris Cole, Gary Story, Ed Beck, Kevin Keyes and Richard Diederich. They started selling Peregrine Network Management System (PNMS) on a Series One computer while developing an MVS version. The MVS client/server solutions for PNMS became available in 1995. In 1989, John Moores, founder of BMC Software and owner of the San Diego Padres Major League Baseball team, became a member of the Peregrine Board of Directors. He served as Chairman from March 1990 through July 2000 and then again in 2002. He resigned from the Board in 2003 during the company's bankruptcy filing. His involvement in the software industry continues today with investments through his venture capital firm JMI Equity. The legacy of his investments has been focused on ITSM software packages with the most recent investments made in ServiceNow. Peregrine had offices in the Americas, Europe and Asia Pacific and grew its product line rapidly both organically and via acquisitions, including Harbinger Corporation in 2000, and Remedy Corporation in 2001.
As of December 19, 2005, Peregrine Systems Inc. was acquired by Hewlett-Packard Company. Peregrine Systems, Inc. provides enterprise software worldwide. It offers information technology (IT) asset and service management software solutions. The company's asset management solutions include Asset Tracking to discover, track, and consolidate hardware, software, and network assets throughout the enterprise; Expense Control to institute entitlement procedures, manage contracts, and initiate cost-center budgeting; and Process Automation to implement automated operational, financial, and compliance-driven processes across multiple applications. Peregrine Systems' service management solutions include Service Establishment to centralize service management functions in a consolidated service desk; Service Control to enhance control over IT services; and Service Alignment to ensure services align with customer needs by managing to specified services levels, enhancing responsiveness to routine requests, and identifying infrastructure weaknesses. The company also provides a Consolidation solution to provide the tools and processes to consolidate service operations, and to identify hardware and software redundancies. Further, it offers Discovery products that find, identify, and track IT and other infrastructure assets; IT Business Analytics products, which provide business intelligence, analytic, and reporting solutions to meet the needs of executive management; SelfService products to extend IT asset and service management capabilities to employees through a Web-based interface; and Integration products that enable customers to connect its products to various third-party applications. Peregrine Systems sells its products to Fortune Global 2000 companies; medium-sized companies; federal, state, and local government agencies; and outsourcers through a direct sales force and alliance partners. The company was founded in 1981 and is headquartered in San Diego, California.