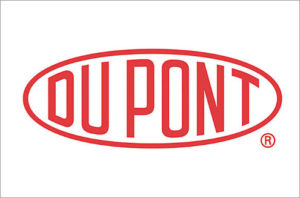 Date: 07/27/1987On July 27, 1987, Dupont registered the dupont.com domain name, making it 81st .com domain ever to be registered.
EI. du Pont de Nemours and Company, commonly referred to as DuPont, is an American conglomerate that was founded in July 1802 as a gunpowder mill by French Éleuthère Irénée du Pont. In the 20th century, DuPont developed many polymers such as Vespel, neoprene, nylon, Corian, Teflon, Mylar, Kevlar, Zemdrain, M5 fiber, Nomex, Tyvek, Sorona, Corfam, and Lycra. DuPont developed Freon (chlorofluorocarbons) for the refrigerant industry, and later more environmentally friendly refrigerants. It also developed synthetic pigments and paints including ChromaFlair.
In 2014, DuPont was the world's fourth largest chemical company based on market capitalization and eighth based on revenue. Its stock price is a component of the Dow Jones Industrial Average.
History
Establishment: 1802
DuPont was founded in 1802 by Éleuthère Irénée du Pont, using capital raised in France and gunpowder machinery imported from France. The company was started at the Eleutherian Mills, on the Brandywine Creek, near Wilmington, Delaware, two years after he and his family left France to escape the French Revolution and religious persecutions against Huguenot protestants. It began as a manufacturer of gunpowder, as du Pont noticed that the industry in North America was lagging behind Europe. The company grew quickly, and by the mid-19th century had become the largest supplier of gunpowder to the United States military, supplying half the powder used by the Union Army during the American Civil War. The Eleutherian Mills site is now a museum and a National Historic Landmark.
Expansion: 1902 to 1912
DuPont continued to expand, moving into the production of dynamite and smokeless powder. In 1902, DuPont's president, Eugene du Pont, died, and the surviving partners sold the company to three great-grandsons of the original founder. Charles Lee Reese was appointed as director and the company began centralizing their research departments. The company subsequently purchased several smaller chemical companies, and in 1912 these actions gave rise to government scrutiny under the Sherman Antitrust Act. The courts declared that the company's dominance of the explosives business constituted a monopoly and ordered divestment. The court ruling resulted in the creation of the Hercules Powder Company (later Hercules Inc. and now part of Ashland Inc.) and the Atlas Powder Company (purchased by Imperial Chemical Industries (ICI) and now part of AkzoNobel). At the time of divestment, DuPont retained the single base nitrocellulose powders, while Hercules held the double base powders combining nitrocellulose and nitroglycerine. DuPont subsequently developed the Improved Military Rifle (IMR) line of smokeless powders.
In 1910, DuPont published a brochure entitled "Farming with Dynamite". The pamphlet was instructional, outlining the benefits to using their dynamite products on stumps and various other obstacles that would be easier to remove with dynamite as opposed to other more conventional, inefficient means. DuPont also established two of the first industrial laboratories in the United States, where they began the work on cellulose chemistry, lacquers and other non-explosive products. DuPont Central Research was established at the DuPont Experimental Station, across the Brandywine Creek from the original powder mills.
Automotive investments: 1914
In the 1920s, DuPont continued its emphasis on materials science, hiring Wallace Carothers to work on polymers in 1928. Carothers invented neoprene, a synthetic rubber; the first polyester superpolymer; and, in 1935, nylon. The invention of Teflon followed a few years later. DuPont introduced phenothiazine as an insecticide in 1935.
Second World War: 1941 to 1945
DuPont ranked 15th among United States corporations in the value of wartime production contracts. As the inventor and manufacturer of nylon, DuPont helped produce the raw materials for parachutes, powder bags, and tires. DuPont also played a major role in the Manhattan Project in 1943, designing, building and operating the Hanford plutonium producing plant in Hanford, Washington. In 1950 DuPont also agreed to build the Savannah River Plant in South Carolina as part of the effort to create a hydrogen bomb.
Space Age developments: 1950 to 1970
After the war, DuPont continued its emphasis on new materials, developing Mylar, Dacron, Orlon, and Lycra in the 1950s, and Tyvek, Nomex, Qiana, Corfam, and Corian in the 1960s. DuPont materials were critical to the success of the Apollo Project of the United States space program. DuPont has been the key company behind the development of modern body armor. In the Second World War DuPont's ballistic nylon was used by Britain's Royal Air Force to make flak jackets. With the development of Kevlar in the 1960s, DuPont began tests to see if it could resist a lead bullet. This research would ultimately lead to the bullet resistant vests that are the mainstay of police and military units in the industrialized world.
Conoco holdings: 1981 to 1999
In 1981, DuPont acquired Conoco Inc., a major American oil and gas producing company that gave it a secure source of petroleum feedstocks needed for the manufacturing of many of its fiber and plastics products. The acquisition, which made DuPont one of the top ten U.S.-based petroleum and natural gas producers and refiners, came about after a bidding war with the giant distillery Seagram Company Ltd., which would become DuPont's largest single shareholder with four seats on the board of directors. On April 6, 1995, after being approached by Seagram Chief Executive Officer Edgar Bronfman, Jr., DuPont announced a deal in which the company would buy back all the shares owned by Seagram.
In 1999, DuPont sold all of its shares of Conoco, which merged with Phillips Petroleum Company, and acquired the Pioneer Hi-Bred agricultural seed company.
Activities, 2000–present
DuPont describes itself as a global science company that employs more than 60,000 people worldwide and has a diverse array of product offerings. The company ranks 86th in the Fortune 500 on the strength of nearly $36 billion in revenues, $4.848 billion in profits in 2013. In April 2014, Forbes ranked DuPont 171st on its Global 2000, the listing of the world's top public companies.
DuPont businesses are organized into the following five categories, known as marketing "platforms": Electronic and Communication Technologies, Performance Materials, Coatings and Color Technologies, Safety and Protection, and Agriculture and Nutrition.
The agriculture division, DuPont Pioneer makes and sells hybrid seed and genetically modified seed, some of which goes on to become genetically modified food. Genes engineered into their products include LibertyLink, which provides resistance to Bayer's Ignite Herbicide/Liberty herbicides; the Herculex I Insect Protection gene which provides protection against various insects; the Herculex RW insect protection trait which provides protection against other insects; the YieldGard Corn Borer gene, which provides resistance to another set of insects; and the Roundup Ready Corn 2 trait that provides crop resistance against glyphosate herbicides. In 2010, DuPont Pioneer received approval to start marketing Plenish soybeans, which contains "the highest oleic acid content of any commercial soybean product, at more than 75 percent. Plenish provides a product with no trans fat, 20 percent less saturated fat than regular soybean oil, and more stabile oil with greater flexibility in food and industrial applications." Plenish is genetically engineered to "block the formation of enzymes that continue the cascade downstream from oleic acid (that produces saturated fats), resulting in an accumulation of the desirable monounsaturated acid."
In 2004, the company sold its textiles business, which included some of its best-known brands such as Lycra (Spandex), Dacron polyester, Orlon acrylic, Antron nylon and Thermolite, to Koch Industries.
In 2011, DuPont was the largest producer of titanium dioxide in the world, primarily provided as a white pigment used in the paper industry.
DuPont has 150 research and development facilities located in China, Brazil, India, Germany, and Switzerland with an average investment of $2 billion annually in a diverse range of technologies for many markets including agriculture, genetic traits, biofuels, automotive, construction, electronics, chemicals, and industrial materials. DuPont employs more than 10,000 scientists and engineers around the world.
On January 9, 2011, DuPont announced that it had reached an agreement to buy Danish company Danisco for US$6.3 billion. On May 16, 2011, DuPont announced that its tender offer for Danisco had been successful and that it would proceed to redeem the remaining shares and delist the company.
On May 1, 2012, DuPont announced that it had acquired from Bunge full ownership of the Solae joint venture, a soy-based ingredients company. DuPont previously owned 72 percent of the joint venture while Bunge owned the remaining 28 percent.
In February 2013, DuPont Performance Coatings was sold to the Carlyle Group and rebranded as Axalta Coating Systems.
Chemours
In October 2013, DuPont announced that it was planning to spin off its Performance Chemicals business into a new publicly traded company in mid-2015. The company filed its initial Form 10 with the SEC in December 2014 and announced that the new company would be called The Chemours Company. The spin-off to DuPont shareholders was completed on July 1, 2015 and Chemours stock began trading on the New York Stock Exchange on the same date. DuPont will focus on production of GMO seeds, materials for solar panels, and alternatives to fossil fuels. Chemours becomes responsible for the cleanup of 171 former DuPont sites, which DuPont says will cost between $295 million and $945 million.
Merger with Dow
On December 11, 2015, DuPont announced that it would merge with the Dow Chemical Company, in an all-stock deal. The combined company, which will be known as DowDuPont, will have an estimated value of $130 billion, be equally held by the shareholders of both companies, and maintain their headquarters in Delaware and Michigan respectively. Within two years of the merger's closure, expected in late 2016 and subject to regulatory approval, DowDuPont will be split into three separate public companies, focusing on the agricultural chemicals, materials science, and specialty product industries. Commentators have questioned the economic viability of this plan because, of the three companies, only the specialty products industry has prospects for high growth. The outlook on the profitability of the other two proposed companies has been questioned due to reduced crop prices and lower margins on plastics such as polyethylene. They have also noted that the deal is likely to face antitrust scrutiny in several countries.